Posted By MissyFoy
Friday, November 13, 2015
We all have our ups and downs … it's kind of what makes life go round, right?  In the past few weeks, I've gone from suffering from aseptic meningitis from the IVIg treatments and ending up going to the hospital, having my blood sugar drop to 30 (yes, that's right 30) before my husband could get anyone to do anything for me, to having some days where I felt really up and optimistic, enjoying the weather finally clearing up so we could get some sunlight!
Even today, in a single day, I've had that bouncing from one extreme to another.  Even though Stiff Person Syndrome is listed (by name) as part of Medicare's Compassionate Care Act, I have yet to figure out what that means in terms of any benefit whatsoever for me.  So, yes, today I went from a decent mood, laughing with my husband as he drove us to the doctor's appointment, to fighting back tears on the phone while talking to someone from Social Security, trying to figure out what compassionate care was supposed to mean for someone like me, who is now facing losing my job, failing pretty much every treatment effort for my disease, having Duke's Human Resources forcing us to prove that we're married so that I can stay on my husband's insurance policy (which I have been on for almost 30 years already) – oh, and a marriage certificate is not proof that you are married apparently.  Do I think we are being singled out? Um, well, yeah, hell yeah.  And, I am once again about to be sent to collections for payments that our insurance company is supposed to have paid, but keeps saying they don't have x, y, or z or that they don't know why those bills are still outstanding.
You know, though, for the most part, I had been doing pretty well for the past few days.  That is part of the weirdness of this disease:  my condition from one day to the next is completely unpredictable.  I can have one day where I can get out and transplant some crape myrtles toward my neighbor's yard (something I told her I would do last year at this time, but then was too sick to do so) – I got 4 of the saplings moved yesterday and then my back seized up.  I thought I'd be able to get at least one or two more done today, but everything fell apart unexpectedly.  At least the dr's appt. went well, relatively speaking.
I try to keep a positive outlook, to stay upbeat, to see the better side of things … but, yeah, I got choked up on the phone today and had to apologize several times when I couldn't finish my sentence … these are the times when I wish I had someone else to make those calls for me!
At least a couple weeks ago, I got to go to duke basketball practice and lunch with Coach K and some of the players afterward!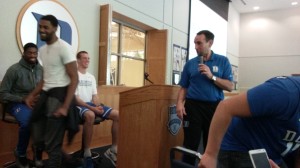 This was actually about 12 hours after getting home from the hospital after the bout with aseptic meningitis and I went anyway … can't miss practice, the team, and Coach K!  I took the time to get a picture of my friend Ellen's picture in the Duke Hall of Fame, too – something I'd wanted to do for a while but hadn't.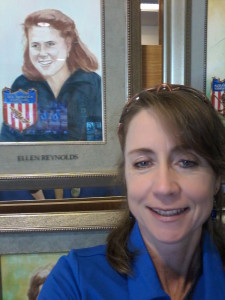 I am not sure which way things will go any longer; nothing seems to be predictable anymore.  I'll admit that I get those moments when I have a desperate desire to have my life return to the normal I had before, but I try not to let those thoughts stick because they can become so toxic so fast.  I know that I need to get myself out of the house more because it is so easy to allow myself to stay isolated and ignore the rest of the world, but it really is not as easy as it sounds:  it is hard to plan ahead because things are unpredictable for me, it is hard to plan for how long it will take me to do something, I cannot be certain that I can drive every day, and the list goes on.
Well, I have student work to grade for now, so I better get on that.  I have a good group of students this semester!
For those of you out there running, enjoy this weather and train smart!
Happy Trails!
Missy
No Comments! Be The First!
Leave a Reply