Posted By MissyFoy
Thursday, January 22, 2015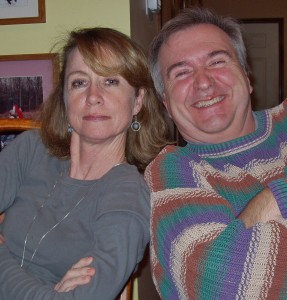 I figured I would start with this picture of me and my oldest brother, Kevin, because I look so believable and honest in this picture.  That, I thought, could set the tone.  I'm really just kidding … sort of.
There are a lot of levels to a question like this, right?  I mean, it can range from simple aging, to career changes, to …. well everything.  For me, it feels like everything pretty much covers it.  I am learning that it works best to try to break things down, compartmentalize all of it, and then deal with what I can and let the rest crash.  Sometimes, I have learned, things crash whether we want them to or not … it happens.
But, knowing that I have something serious that is changing my life, Bob and I have spent time really trying to figure out the tangible and intangible things we need to do.  I think the fact that my doctors have told us that we need to do that has also sort of nudged us in that direction just a little.  You know, those little things like labs and such tell a story that you cannot untell or twist into what you would rather the story say.
I am taking three months off from teaching.  I will be working on a couple of writing projects and on trying to design another new course that weaves health and medical issues into the regular web of the design of the original course.  Bob and I are also going to do a few bucket list items during that time.
Since today starts my three months "off," and I woke up feeling pretty good, I went straight out and overdid it.  Well, so far it doesn't feel like I overdid it, but I probably did.  I ran my usual ten mile run (usual from before all this started).  It was slow, of course – what run of mine is not slow right now … and, how long have I been back running at all, something like a week?  But, I ran a 10:09 mile on the end.  I know that sounds dreadfully mundane to all of my running buds out there, and truth is my mile PR is like half of that, but I ran 10:09 for a road mile on a route that I often use to gauge myself.  I was pretty happy with it.  I wasn't trying to blow it out and see just how fast I could get through it.  I just tried to "stay tall" like my coach always used to tell me, to have a little loose swing in my waist, to keep my foot plant even, and just feel okay.  It was at the end of my run, the last road part just before you hit the rutty trail that you wouldn't want to time yourself on.  I obviously started out a lot slower.  And, as much as I would like to sit here and lie and say that I had not had any intention of running the whole ten miles when I started, I had every, single intention of doing just that and I knew it from the second I put my shoes on.
So … back to the original question … how exactly do you plan for a new kind of life when you see it coming right at you?  We have a few ideas.  We definitely plan to de-clutter our lives both in terms of stuff and in terms of things we do that we just don't really need to take up precious time with, things that would be better to exchange with more meaningful things, like watching the granddaughters play a volleyball tournament instead of sitting in a conference on some stupid crap that I don't really care about because it might look good on a CV if I participate.  You know what?  Excuse my language here for minute, but I can pull out the "call me Dr. Foy" shit now; I don't need to go sit in a conference to hear someone actually say it.  It's funny how much less important it becomes once you actually get there.  Don't get me wrong; there are actually conferences that I really WANT to go to; I AM a geek, for real, like, yes I am.
We also plan to start shifting the majority of our home life to the first floor of the house.  Right now it may not be a huge issue, but it has already become an issue a couple times just in the past few months and if we don't plan for it, we'll be screwed.  It won't take a lot to make it happen.  I do hate to give up my office upstairs, though.  That's a hard one for me.  There is a whole lot that goes into that, things I can't even put into words, things I don't think I have the vocabulary for anyway.  But I'll end up with a very comfortable and functional space in the downstairs den/study that will probably end up being even more comfortable and workable … it's just … that's MY office, and it may be small and all that, but it's my office, all mine, just mine, with all my office stuff in there.  It hurts a little.  No, it hurts a lot.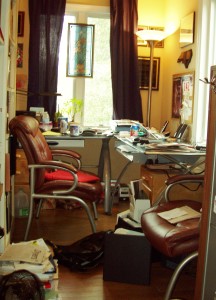 This picture above was about two weeks after Fall semester started.  It happens every time, everything explodes books and papers!  Once I'm downstairs, I guess I'll have to learn to keep things contained a bit better.  I actually even realize that I will most likely be more comfortable downstairs, as I end up working down here a lot anyway (and it puts me right beside the back porch where I like to work on nice days with my laptop), but it's just the idea of giving it up.
Another thing we've decided that we need to do is plan for an emergency.  The whole fish food poisoning/low blood sugar/vomiting/I thought I was going to die/emergency room thingy made us think that maybe we should have a plan or two in place.  One thing for me is to find something to do with the cat if an ambulance or something is called to the house.  I know that sounds ridiculous to a lot of people, but it is incredibly important to me.  She is an indoor cat and EMS people are NOT going to look out for my cat and the doors will be wide open if there is an emergency.  We have some ideas and right now I think option #1 is stick the cat, the kitty pail, and food/water into the walk-in closet and leave her there until the chaos is over.  Trying to get her all the way upstairs, along with all of her stuff … wow, that's a lot to try to do in an emergency.  Another option that might turn out is that we want to build a greenhouse (not fancy, but one of those ones that definitely look like you did it yourself) beside the bedroom, with a door into it from the bedroom – she could be stuck in there pretty easily.  Juliette, the other cat that had been just this side of feral when we adopted her, already has a setup much like that and she loves it.  She does not run loose; she has both indoor and outdoor space because of a courtyard – Holly would not get the outdoor space, just the ramshackle greenhouse space.
I also need to start figuring out what my activity options are going to be.  Nobody seems to have any idea how much of my running ability I will regain, but I think it's pretty safe to say that I won't get it all back.  Thank goodness for my elliptical machine!  That thing has been the best!  I want to take up some mountain biking but I don't want to do the dangerous trails that end up with people breaking collar bones and shit like that.  I'm more into the endurance aspect of some slightly technical trails.  And, Bob got me a stand-up-paddle board – a cheap one since we don't need something super cool.  I have to wait until it warms up, though, because blasts of cold seem to be one of the things that can send me into convulsive events – don't want to fall into the water when it's winter.  I plan to do more kayaking, too.  Plus, we have kickboards like the kind you see people use at pools and we're right here on a lake, so there's that, too.
Well, I decided that I would use my first day of vacation to write a blog post and then get started on trying to clean up from the final part of the winter session course that has left a tornado of papers and crap everywhere.  So, I feel pretty much done with the blog post for now, so on to #2.  And, let's see how much I regret my run as the day wears on … or not?
And, I would certainly be remiss if I did not say thank you so very, very, very much to all the well-wishes that I have gotten from my athlete family from all around the world basically.  Just the other day, I got a note from my buddy Becky Furuta, who just got back from a cycling training camp in Spain, saying, "Your name came up more than a few times in Spain. I hope you know how many people are thinking good thoughts for you!!"  It really does mean a lot.  I think it removes some of the isolation and puts me back into the world that I know in some kind of way that sort of works okay for right now.
On to cleaning up … ugh.
Happy Trails!
Missy
No Comments! Be The First!
Leave a Reply