Posted By MissyFoy
Saturday, October 18, 2014
The Emily K Center is a center for disadvantaged youth that tries to open possibilities for them through educational support.  The center is named after Coach K's mother Emily Kryzyzewski.  Yes, I spelled it right.
I had the great opportunity yesterday to attend one of Duke's basketball practices along with a handful of other people and then go to a fund-raising event afterward for the Emily K Center.  Wow.  Let me say that again: wow.
The Emily K Center does some amazing things.  Education has been a life-changing force for me in so many ways.  I love that there is a place here that realizes that and tries so hard to bring open that avenue for so many kids.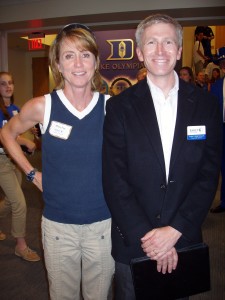 Adam Eigenrauch runs the center and the fund-raising events for the center … and does so many other things behind the scene that he is incredible!  He is also a runner, so he is extra, super-okay in my book.  We decided yesterday that we have to go ahead and get together for a run so we can talk about what, if anything, I can do to become part of the great work there!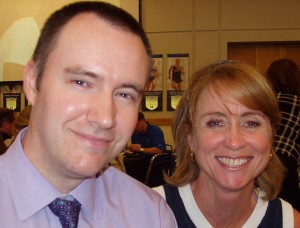 Shannon Taylor, from Fidelity Investments, is a huge supporter of the Emily K Center and made it possible for me to have this awesome experience yesterday!  And, Shannon is pretty cool even though he went to UNC and said he has to admit that a small part of him cringes every time he walks into Cameron.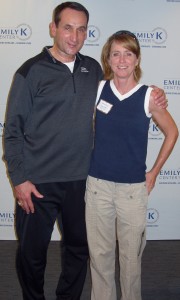 And, of course, how could I not put in a picture with Coach K?!  It was so much fun to get a chance to sit down and talk to him about the practice and ask questions afterward.  I asked about one of their new freshman recruits, Grayson Allen, and what was going on in practice because he was point guard, small forward, swing-man, blah, blah, blah … so Coach K looked at me a little funny (I guess girls don't usually ask those kidns of questions), explained how they were moving freshman around so that they would understand all the positions, etc. I mentioned what a fantastic outside shooter he was and Coach again looked at me funny and remarked, oh you noticed that, too? Um, yes! Okay, he said, then what size shoe does he wear?  Suffice it to say, this was more fun than being a five year old on Christmas morning!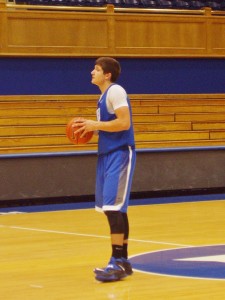 And, yes, this is my new boy-crush, Grayson Allen!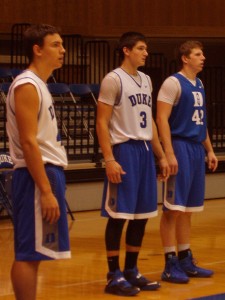 Yes, he is awesome!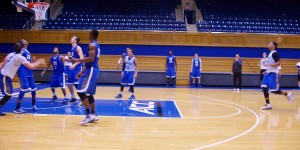 What a day … and evening!
Happy Trails!
Missy
No Comments! Be The First!
Leave a Reply